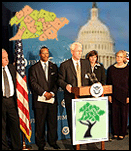 The Comptroller's office is responsible for the everyday management, operation & oversight of the Union County Utilities Authority (UCUA) financial activities.
These duties would include revenue, expenses & tonnage reports, monitoring general accounting records, payroll, pension budget preparation & management and insuring that all regulations and proper accounting procedures are followed to insure the UCUA is in full compliance with certain laws, contracts and general auditing standards.
In addition the Comptroller's office is directly responsible for the management and collection of three (3) main revenue streams for the UCUA:
Type 10 Contract Waste Revenue
Type 10 Program Waste Revenue
Type 13/27 Bulky Waste Revenue
The main tasks executed by the Comptroller's office for the above revenue sources would be to maintain weekly tonnage reports for the 14 Contract Municipalities and the County of Union, monitor weekly Program tonnage reports for approximately 60 independent haulers and to report the weekly tonnage & revenue generated by the bulky waste facilities accepting Union County waste type 13/27 tonnage.
Other duties would include the tracking of payments received from special counsel and the County of Union for waste flow violations, maintaining service fee files and reconciling payments made to Covanta Energy and various other UCUA vendors.
The following list identifies attorneys, advisors, consultants, and any other person, firm, business, partnership, corporation, or other organization which received any remuneration of $17,500 or more during the preceding fiscal year for any service whatsoever rendered to the authority. The current bid threshold is $40,000 as set by resolution 24-2007 and renewed yearly.
County of Union
Covanta Union, Inc
DeCotiis, Fitzpatrick & Cole, LLP
Horizon Blue Cross Blue Shield of NJ.
Arcadis/Malcolm Pirnie, Inc.
NJ Utility Authorities JIF
State of NJ
Suplee, Clooney & Company
Weber Dowd Law, LLC
All Covered
NW Financial